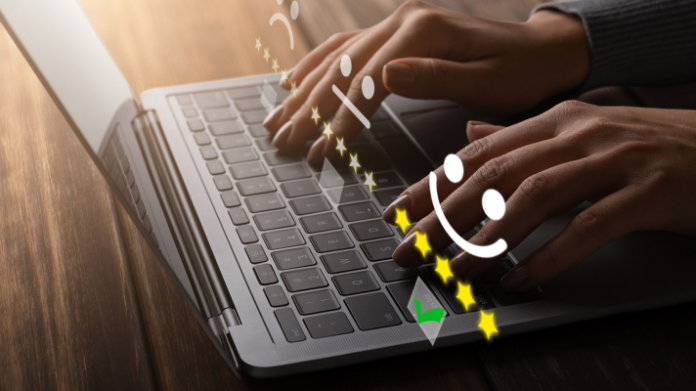 Online reviews are one of the first things customers look into when making a purchase. It's hard to decide whether a product is right for us without getting a feel of it, but we can turn to online reviews for guidance.
That is why having online reviews for a product is so important, customers need them in order to trust your store and commit to a purchase.
It is estimated that 77% of consumers regularly read reviews when browsing online, and the numbers keep on growing.
The opinions of previous customers can really influence the decision making process of a new consumer when shopping online.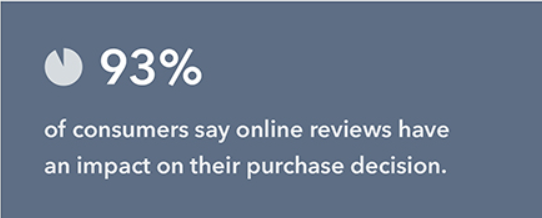 If you want to learn more about the role of reviews in your Dropshipping business, keep on reading.
Contents

The Benefits of online reviews
We know that everyone is reading online reviews, but how can reviews actually help your online business? Why is it so essential?
Let's go into detail, revealing its irreplaceable power in the ecommerce industry.
Build trust.
This one is pretty self explanatory. There are many online stores to choose from, and customers are more likely to buy from the stores they are familiar with.
Why? Because they trust those stores the most.
When coming across a new store, there has to be a good enough reason for a customer to trust it.
And that reason would be – its reputation. By reading reviews customers can tell whether this store has a good or bad reputation, and if they are trustworthy to buy from.
Improve SEO.
Yes, online reviews can get you higher ranking on SERPs – which is a result of improved SEO.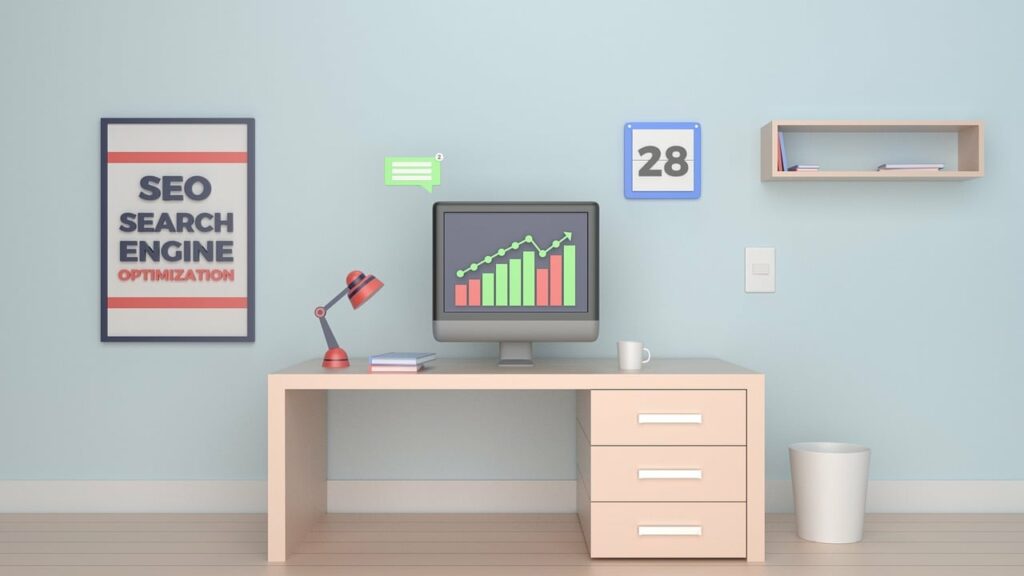 How does it happen?
Reviews are added content and added keywords, these two things improve visibility on search engines. Plus the potential keywords are the most relevant since it is what customers chose to describe your products/store and what other people will most likely use to look you up online.
Not to mention that as reviews keep adding up so does the content keep getting up to date, which also impacts SEO. This is a zero effort way to drive traffic to your store and increase sales.
Increase sales.
Customers are much more likely to make a purchase based on consumer reviews rather than product descriptions or other marketing materials.
Like was mentioned in previous sections, reviews lead to trust, and trust leads to sales.
There's this sort of encouragement to buy a product when there are useful product reviews available, it gives customers confidence that they're making a good choice. And we all like making good choices. According to Reevoo, reviews produce an average 18% uplift in sales.
Feedback.
Reviews are feedback, whether positive or negative, they are important for finding out what you should preserve and what to improve.
Use those reviews to your advantage, take them seriously and address weaker points.
Another part of that is making sure customers feel listened to, and that their complaints contribute to the store's shopping experience.
How to get reviews
So we know reviews are important, but how can we make sure customers leave them?
There are a few ways to speed up the process, and encourage customers to leave feedback on their purchase.
This is especially important to do when customers have had a good experience with a product, because that is when they are much less likely to take the time and leave a review.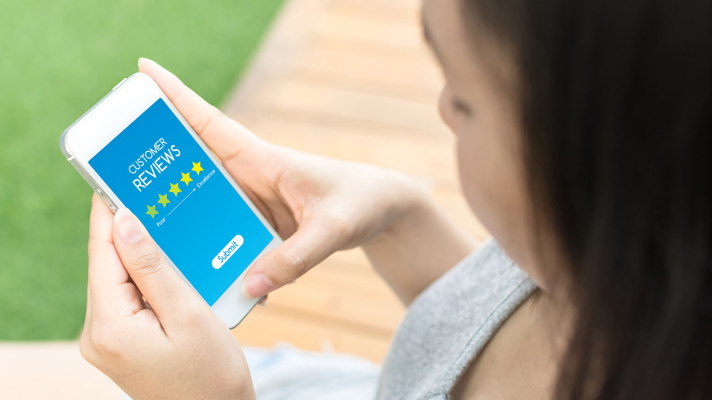 Ask.
As straightforward as it is, if you want something just ask for it.
Most customers don't think about leaving a review unless you directly ask them to. You can do that by leaving an email or a message – just make sure you don't do that right after they make a purchase so they have time to test the product out.
Follow up emails are the most common method for asking for reviews. It's easy and can be automated, and it encourages customers to share their personal experience with a product.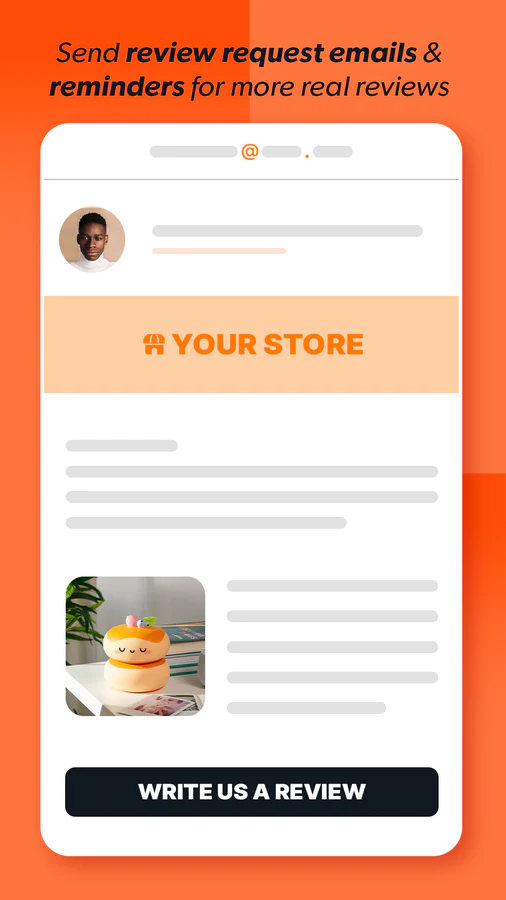 The timing of the email also plays an important role, it largely depends on the type of product, but generally speaking you want to send it after enough time so that the customer has already tried it out, but not too long so that the products are still fresh in their minds.
Asking more than once can also increase the chances of getting reviews, so try different methods at different times.
Make it easy.
The task of leaving a review requires some sort of effort, and you want to minimize that effort as much as possible. If customers feel like leaving a review will take too long or require too many steps, they won't do it.
So make it so easy they can't find excuses.
Add review submission forms on your website
Limit any technical issues
Encourage with follow up questions
Make the process as short as possible
Walk them through every step
Offer perks.
Reward your customers for leaving a review. Everyone loves gifts, so why not encourage reviews by incentivizing your customers?
These benefits can be in the form of a discount, coupons, free product, loyalty points or any other kind of a reward. Choose the one that best suits you and the type of products you're selling.
All you need to do is add the offer to the post purchase email requesting a review. Make sure you include the offer at the top part of the email, so viewers can't miss it out.
Here are what type of incentives customers would most like to get: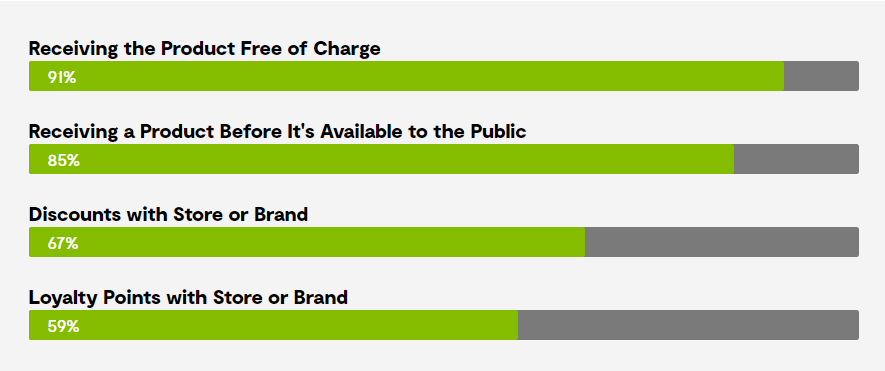 Another interesting option is to offer different incentives based on the level of detail of the review. If the incentive is in the form of loyalty points, you can increase the number of points in accordance with the type of review.
This can look like this:
Written reviews get 20 points.
Review with a photo included 50 points.
And a review with a video included 100 points.
Engage with reviews
Whether it's a positive review or negative review, responding to customers can really improve how people view your store. 55% of consumers said that the business owner responding to the review would make them feel positively about a business.
It is recommended to respond to as many reviews as you can. It shows customers that you care about them being heard, and it builds trust and encourages further conversations. This also helps improve SEO efforts, like was mentioned before, the more fresh content the better.
What you write in response also matters a lot, especially when it comes to negative reviews.
In general, you want to strive for writing as personalized reviews as possible. When customers feel that you put extra effort into responding to them, it makes them feel cared about. New customers will also be more likely to leave a comment knowing that it will get recognized.
When it comes to negative reviews, make sure you do the same. If you respond in the right way customers might even delete their negative comment entirely.
Here's what a good response should include:
Offer solutions to frustrated customers as best as you can
Be open to negative feedback and show understanding.
Apologize if needed
Always include their name.
Be honest.
This shows you're not afraid of criticism, and are open to making improvements. As a result, it can make customers that had a bad experience consider coming back.
Product review apps for Shopify
If you are a dropshipper that is selling products through a Shopify store, you are in luck.
That is because Shopify has apps that are specialized in getting and showcasing reviews, taking into account all the important points we brought up into how to get reviews. And ultimately making the process as easy and efficient as possible.
We'll go into detail about two of the best product review apps for you to use.
Review app – Loox
Loox helps its users collect photo and video reviews, add review widgets, and share reviews on social media.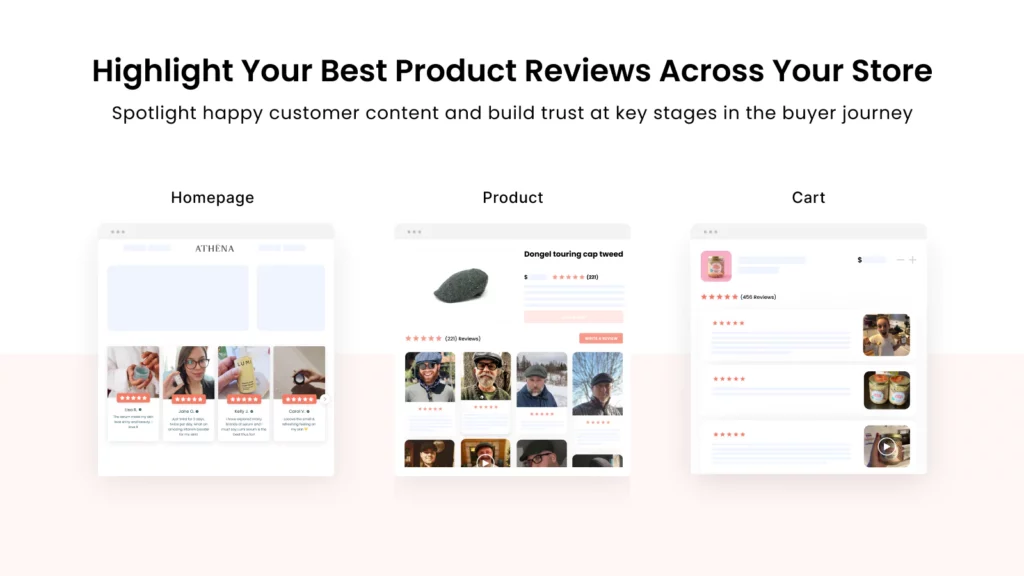 What can you do with Loox?
Send review request reminders
Offer discounts for photo or video reviews
Schedule review requests by delivery time or order status
Customizable layouts (widget colors, looks, logo, font, size & position)
Import reviews from any source
Review carousels, pop ups & sidebar
Eye catching displays
Incentivized reviews
Add happy customer page
Display product reviews & ratings on search results (good for SEO)
Reply to reviews
Pricing
Free trial for 14 days
Beginner plan for $9.99/month
Growth plan for $34.99/month
Unlimited plan for $299.99/month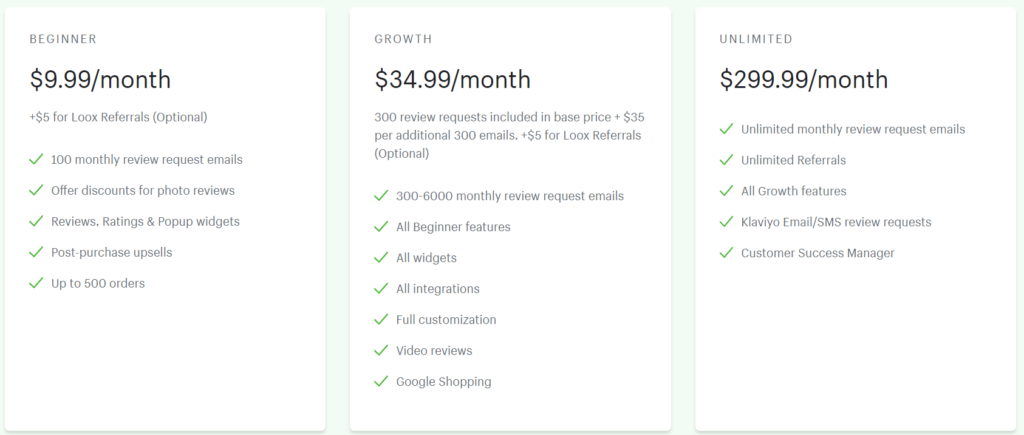 The beginner plan does not include: Video reviews, Free Reminder emails, Delivery based scheduling, Customize email appearance, Custom email banners, The Loox Sidebar, Reply publicly to reviews, free Loox referrals , and Google Shopping integration.
The growth plan provides much more in comparison but still does not include free referrals.
Overall, the app has a lot to offer. Unfortunately there is no free plan available, and if the plans are a good value for money is arguable.
Review app – Ali Reviews
Ali Reviews app is best for people that dropship from Aliexpress. This app lets you collect reviews effectively by various methods, add customizable widgets to boost sales, and share reviews to increase traffic.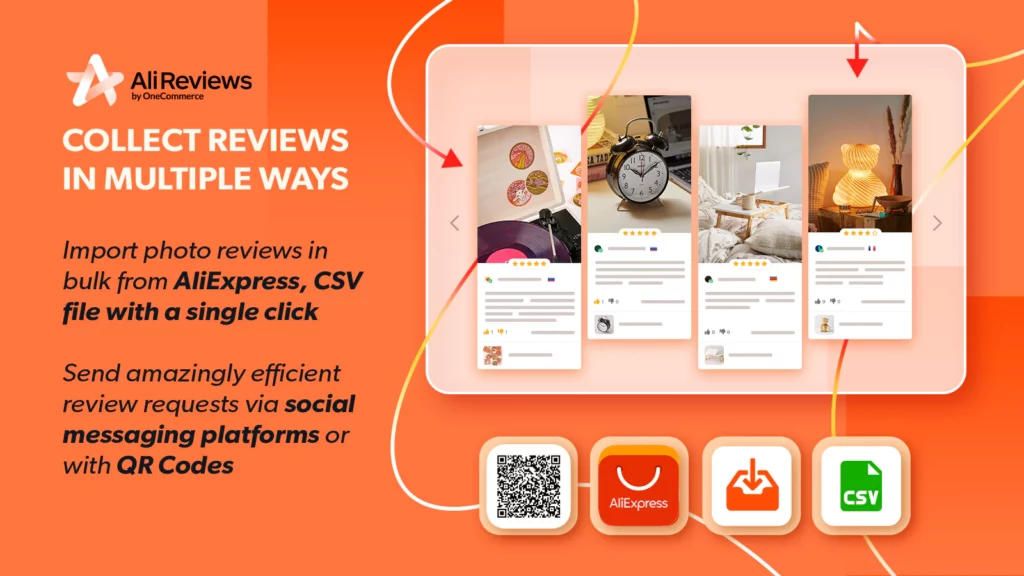 What can you do with Ali Reviews?
Add review widgets in different layouts (list/grid/carousel)
Add Cart page widget that shows reviews from in-cart products
Carousel slider on Homepage to attract visitors
Send automated email, SMS review requests
Get reviews at delivery time by creating QR codes and print them into product containers
Incentivize customers to leave a review
Migrate existing reviews quickly from other apps/platforms
Collect photos review directly via AliExpress reviews importer
Display the most relevant reviews to the right visitors based on their on-site behaviors
Share reviews to social media
Reply to customer reviews
Pricing
Free plan
Starter plan for $9.90/month
Essential plan for $19.90/month
Premium plan for $49.90/month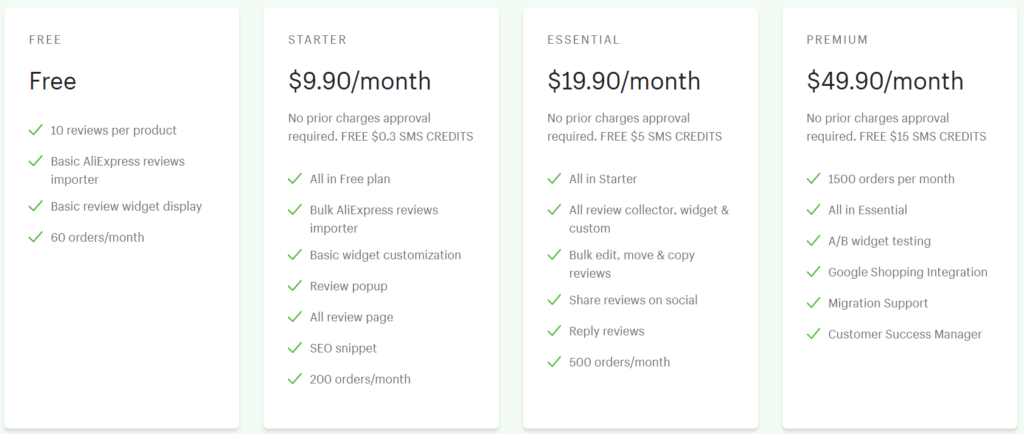 The fact that there's a free plan is really great for trying things out until you're ready to upgrade.
As for the Starter plan there are a few things that are not included such as: Discount coupon, automated reminder email, homepage carousel slider, dynamic review of abandoned cart, discount widget, customization and branding, and limited content moderation.
The Google shopping integration is only available on the Premium plan.
The Ali Reviews app is much more affordable, but it's too bad there is a "powered by Ali review" trademark on any customer review section.
Conclusion
Reviews can be one of the most effective marketing strategies. It convinces buyers to trust your products, and hold the power to elevate your store's online reputation.
But there are a lot of actions to take on your side to really get as much as possible from reviews. Such actions can be sending request emails, adding incentives and responding to reviews.
However, these are just methods for collecting reviews, and do not include the different options of displaying them or sharing them on social media.
The good thing is that there are Shopify apps that are built to help business owners implement all of these strategies in order to get the very best results.
Loox and Ali Reviews are two examples of these apps. Both have different advantages and disadvantages, but mainly differ by different price points and the type of businesses they are most suited for.
Hopefully the feature run down and the knowledge about price plans, will give you a better understanding of which one is best for your dropshipping business.
Best of luck!
Struggling to find good products to sell? Not sure who's your target audience? Tired of losing money on products you were sure were "winners"?
Then Ecomhunt is what you need! Find hot winning products that are added daily, spy on their ads & stores and import them into your store in 1 click and Start Selling Today!