Advertising costs are on the rise and increasing your Average Order Value can sometimes be the difference between a profitable and a losing campaign. And even if you're not spending a dime on advertising, I don't know anyone who would refuse to accept bigger orders and to make more profit per customer.
In this article, we'll cover the methods used by store owners to increase their AOV. And we will provide numerous tips on how to setup a successful working system to increase your AOV which will lead to an increased profit.
Offer Bundles to Increase Your Average Order Value:
A Bundle is probably the most popular way to increase your AOV. Widely used on leading ecommerce websites like Amazon, all it takes is one tempting offer and the customer will be willing to spend much more than he intended when he first visited your store.
Bundles such as you see on Amazon and different websites can be easily done by using a custom shopify app. There are plenty of bundle apps on the shopify app store but if you want a recommendation, the "Bundles | Also Bought Together" shopify app is our favorite. You can check it here(we have no affiliation with this app) – https://apps.shopify.com/product-bundles-by-vitals
Buy More – Save More Bundle: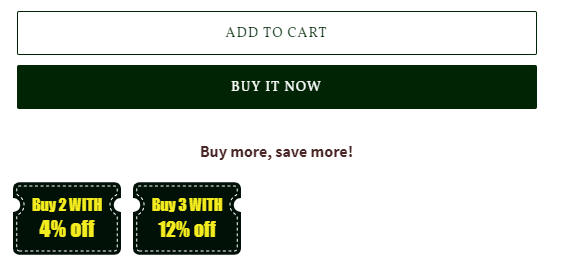 This bundle offer is our most favorite and it always gives us the best results. This option works best for low to average priced products. Sometimes, a cheap aliexpress product that costs $2-3 can't be sold for $30. It really has to be something top quality for you to be able to price it at $30.
So instead, we offer our customers to buy more than 1 piece and give them a nice discount. A tempting discount they cannot resist! This way, a big portion of our customers will buy more than 1 piece and our AOV will increase. We also need to make sure that our profit for 2 pieces after the discount is considerably higher than the profit for 1 piece. So if you're selling 2 pieces and profiting $2 more than selling 1 piece, you should definitely change the discount amount you're offering.
Frequently Bought Together Bundle: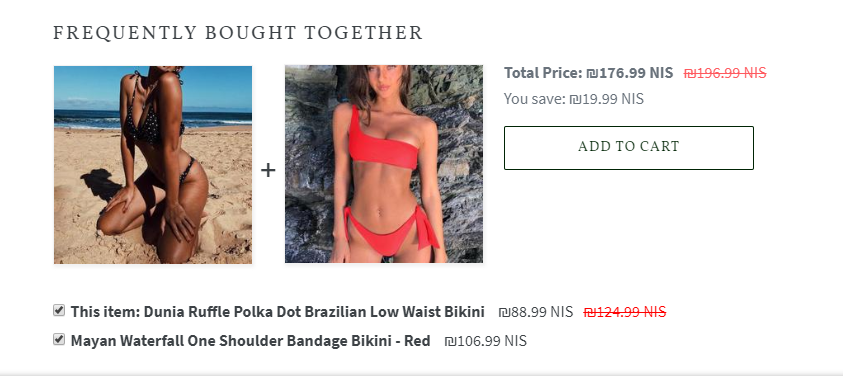 This is a straight copy from Amazon. We don't really know if they were the first in the market to offer this type of bundle, but it really doesn't matter. This bundle works great for a lot of store owners and can significantly increase your AOV.
The most important thing when offering this bundle is to have a logical connection between the products. As you can see, in this example the offer is an extra popular red color bikini that could be bought together with the black one. A Logical offer that will probably work really well.
If instead the red bikini, the offer was a wrist watch, it would probably fail. So it's really important to offer related products and not just random "Hot" products.
Buy X – Get Y Free Offers:
One of the most popular offers that can be seen anywhere from your local small grocery store to retail giants. The offer of a "free" gift is one of the best psychological tricks out there and it works no matter how many times a customer has seen such offers.
You can use this method and offer the 3rd item for free or just throw in a random gift.
For example: If your customer buys 2 t-shirts, he'll get a free sticker. Something as small(and cheap) as a sticker can be enough for the customer to decide and order 2 t-shirts instead of 1. The word "Free" has a lot of power and it's a must for every store owner to utilize it in order to get more sales.
You can easily offer these options by choosing one of the available "gift options" apps on the shopify store. Or if you're on a tight budget, you can always replicate some of these offers and add them manually. All you need is a bit of creativity!
Manual Example: On a product where you want to offer 1 free item when buying 2, you can simply write it in your product title. Or place a small "buy 2 get 1 free" banner with your offer. Next, change your quantity variant and make sure to add "get 1 free" in brackets. So when the customer chooses 2 he will see "2(get 1 free)". And just make sure to send the customer 3 of the same item.
Pre-Purchase Upsells: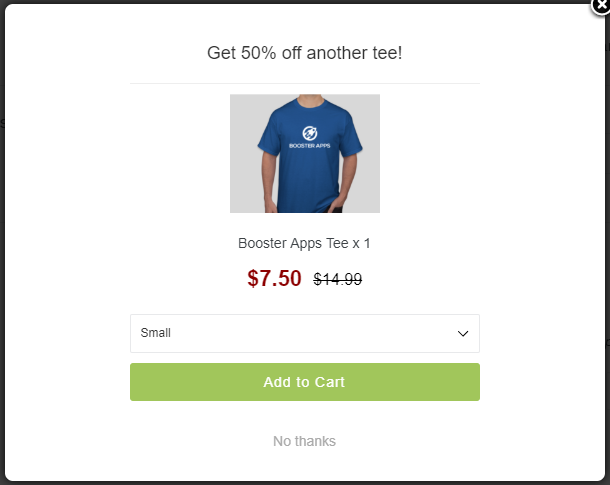 The pre-purchase upsells are usually activated after the customer already made a decision to add a certain product to their cart. Once on the cart page, a pop-up is triggered and offers another product for a discount. Pop-up upsell is the most popular way but there are also "upsell suggestions" which appear somewhere in the cart page and offer 1 or more items for a discount. Cart upsells do work but as we expalained in our previous article here, we prefer keeping the cart page clean to increase our conversion rate. This is why we don't usually use cart upsells but as this article is about increasing your AOV, we had to include it.
To use pre-purchase upsells, you'll have to install a shopify app. Some of the bundle apps available have already an upsell option in them so make sure to look for apps that offer multiple options.
Internet Marketer, Sales Manager, eCommerce Expert, and Community Manager at – Ecomhunt